Barraba to Mt Kaputar event-register now
3rd August 2022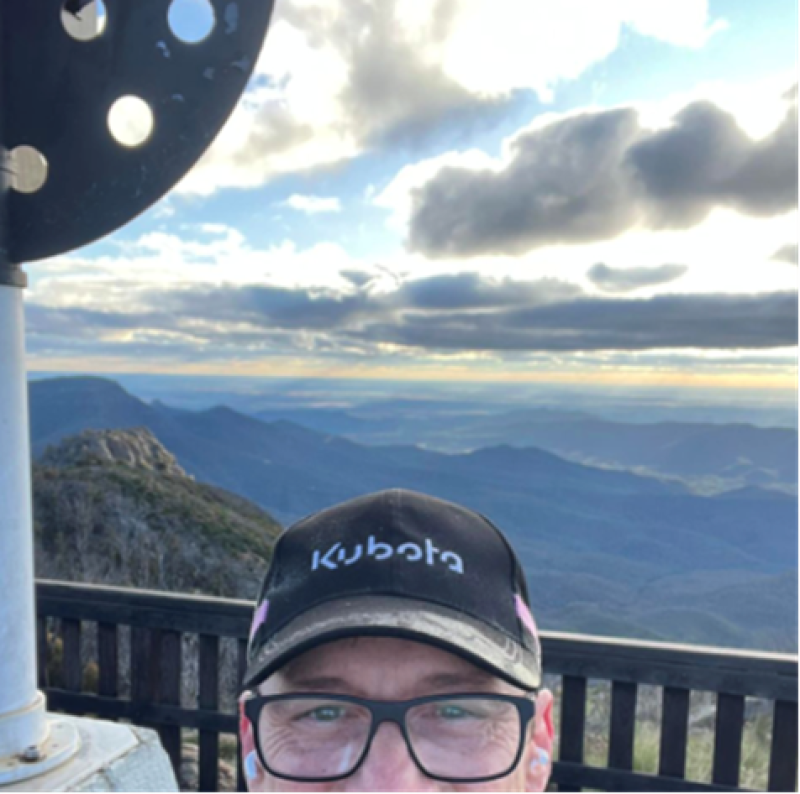 From Jane Harris, cousin Jonathan Harris, about the upcoming "Barraba to Kaputar Multi-sports event"
Running for Barraba By Jonathan Harris
As far as I am aware, the Barraba to Kaputar Multisport Event is the first sporting event that has challenged competitors to run or cycle to Mt. Kaputar's summit. I would be keen to hear any sporting history that might have involved someone achieving the summit by running or by bicycle. Having said that, Barraba has been a very competitive sporting town, and has set some records with both team and individual sports alike. My own experience in sport was pretty average back in the day… I attended Barraba Primary in 1977 when my family moved to the area from Darwin, and we bought the beautiful farm "Wongala" in the foothills of the Kaputar Ranges. I hadn't even played cricket up to that point of Year 6, and I learned it down on the Oval (paddock) next to the Primary School. The next year, moving up to the Barraba Central School in 1978, I started experimenting with Soccer, another new sport for me, and more Cricket. I discovered that the cricket pitch was used for more than cricket some nights- with my first experience of a sport called 'spin the bottle' being held. Don't worry I won't name any names. Having come from the Territory, the only sport I tried previously was Aussie Rules on bare red dirt pitches with aerial Aboriginal kids flying in at me from every angle and Field Hockey. Both extremely dangerous from my point of view.
From 1978 to 1981 I travelled with the blokes to Glen Innes, Inverell, Armidale, Walcha and Cassilis to verse other country kids. We had combined school dances, got to know new friends, and made pen-pals… you know when you actually write on paper and post a message in an envelope. We had some great players in those days. Besides the amazing female athletes like Lesley-Anne Levoy, Samantha Moss, and Jenny Potter, I witnessed many cricket matches Vincent Woodgate bowl out numerous sad sacks, and Neil Morris (Principal's son) try to spin the cricket ball… but I remember with some sense of awe Brett 'Watto' Watson… who had moved to Barraba from Warren. He was excellent at everything he put his bat, boot, or keeper's gloves to. I was usually twelfth man in cricket… but started enjoying Soccer with one great friend… the late Gregor Gamper… who encouraged me with teamwork, and whatever I kicked to him, he put into the net. I was fortunate enough to see the early days of our farm neighbour Geoff White's footie career taking off. But what I really enjoyed was cross-country running. The former Principal of the school was pretty serious about fitness for us (I don't remember seeing him run though?), and I remember doing a long paddock run with the whole school around the property to the West of town that has all that old farm machinery out the front, and back passed the soccer ovals on Trevallyn Road. I wore the Central School green and gold t-shirt with pride, but never achieved a ranking that I can remember. But it was something I enjoyed.
So, jumping forward 40 years, I hadn't trained in any sport for 20 years, and I needed to lose some weight… so started trying out this thing called "Triathlon". I get bored with one exercise, and can't just sit in a gym… so I run a bit, swim a little, and get on some lycra to look the part on my secondhand bike. Two years in at the age of 57… and I am in training for my first Ironman… yep, my family thinks I'm crazy too. And then travelling back to the farm from my home in Newcastle, I was driving up the Horton Falls road and thought, wouldn't it awesome to start a mountain challenge… to encourage people to get healthy and raise awareness for the global charity I work for. So, on Saturday 8th October, we are asking people to sign up to either run, hike, cycle, or do a combination of them all, to start at any point from Barraba township to Kaputar National Park boundary gate on our farm "Wongala". (Don't worry, we're pulling the plug and postponing if there is any hint of Foot and Mouth in NSW… we value the Barraba livestock and farmers' livelihoods too much.)
I've heard of some entrants pushing a pram with their kids for a few kilometres, and another entrant jumping on their E-Bike. It's all for a good cause. The charity I work for is called Bible Society Australia- and the fundraising effort that people can choose to be involved in is going to support Bible work globally in the form of translation work, Literacy education, trauma healing and counselling in war-torn areas of the world, and chaplaincy support in prisons, schools, and the Australian Defence Forces. If you are not of the religious persuasion and don't want to raise funds- you can still join the challenge to climb the mountain with us, by simply paying a registration fee to cover staffing costs, the after-party lunch on the farm, as well as supplements and nutrition stops. Details can be found here: https://events.biblesociety.org.au/event/view/barraba-to-kaputar-summit or you can join the Facebook Group to understand what is going on- search for "Barraba to Mt Kaputar Fundraising Group".
The National Park staff are behind our event and will be in attendance from the Park gate. If you aren't wanting to participate in the athletic side, we are keen for 'roadies' and volunteers to manage some drink stations, assist with any first aid needs, and for a few vehicles to follow the assorted entrants for safety.
A bit of history around the charity… you may not be aware, but the Bible Society, or the 'British & Foreign Bible Society' is the oldest organisation in Australia. Initially formed by William Wilberforce in England in 1814, Governor Lachlan Macquarie (at the urging of his wife Elizabeth Macquarie), gathered 50 business people, lawyers and others to establish the NSW Auxiliary in March 1817, to assist in helping the fledgling colony of NSW that was made up of mostly convicts, mixed settlers and morally dubious soldiers learn a more moral foundation. Three weeks later, those same gentlemen formed the first bank in Australia- the Bank of NSW- now Westpac. A special history piece was written for our Bicentenary during 2017 for ABC News- it can be found here: https://www.abc.net.au/religion/a-new-story-for-an-old-land-200-years-of-the-bible-society-in-au/10095998