Barraba Show 2023
22nd February 2023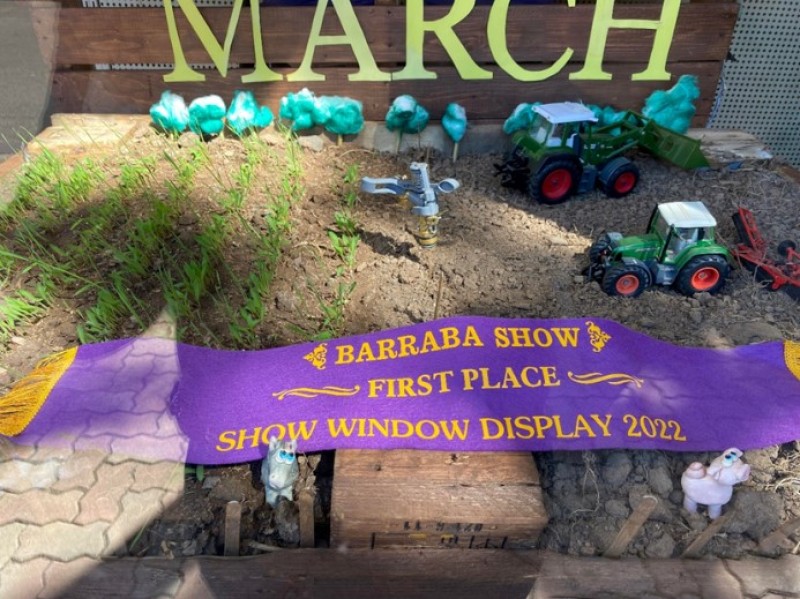 Important Information
Shop Window Display
The 2023 Barraba Show is fast approaching, only 2 weeks to go! The show society is once again asking all businesses to promote the show with a window display. Do you think you have this year's winning window display? The pavilion theme is "Fish" but displays are not limited to this. Displays are getting better & better every year and becoming very competitive. We all wait & look forward to see what ideas everyone comes up with this year. Once again thank you everyone for your support & promotion of our show.
Judging of the Shop Window displays will take place on Wednesday 1st March commencing at 3.30pm.
Membership fees: New memberships and renewals are to be purchased at the show office prior to the show.

Note: Membership fees will not be accepted at the gate.

Family membership: $25 per annum for admission of two adults and children of member's family under the age of 18 years, to all exhibits for the duration of the Show.

Single membership: $15 per annum.

Aged Pensioner membership: $8 per annum.

GATE ENTRY for Non-Members: CASH ONLY

Family Pass $30. (2 Adults and children under 18 years. Each family member gets a ticket).

Friday & Saturday: Adults $10.

Sunday: Adults $8

Friday – Sunday: School children up to 18 years $4

Aged Pensioners: $4
LODGING OF ENTRIES
Early entries may be lodged in person at the Secretary's Office,
Barraba Showground 10am – 4pm Monday 27th February – Thursday 2nd March 2023 Show Office Ph: 0447 222 347.
PHOTOGRAPHY: Entries close 3:30 pm on Tuesday 28th February. Lodge at the Show Office at Showground.
STUD CATTLE: Entries close Friday 24th February 2023.
All entries to cattle secretary: mctswalker@bigpond.com Tammy Walker PH: 0429 310 479 or 02 6782 7378
Entry form on website: www.barrabashow.com.au/forms
POULTRY: Entries close Friday 24th February 2023.
All entries to the Secretary, Barraba PA & H Association Inc, ph 0447 222 347, barrabapah@hotmail.com or PO Box 108, Barraba NSW 2347.
WOOL: Fleeces can be left at the show office during the show week or at the wool pavilion by 2:30pm on Thursday 2nd March.
HORSES: Entries are taken on the day under the marque in the horse section.
DRESSAGE: Friday 3rd March.
PAVILION ENTRIES: Delivered to the Secretary's Office at the Showground between 10am - 4pm on Weekdays, from Monday 27th February to Thursday 2nd OR to the Showground Pavilion on Friday 3rd March, 8am – 10am.
CUT FLOWERS: Luncheon Pavilion from 2pm – 4pm, on Friday 3rd March. NOTE NEW TIMES.
GARDEN PRODUCE: Luncheon Pavilion from 2pm- 4pm, on Friday 3rd March. Please note times.
BARREL RACES & XTREME BRONC RODEO: Saturday night from 5pm
All entry forms and waivers are available on our website or from the show office and to be completed when submitting your entry. The show schedule & entry forms are available on the website www.barrabashowsociety.com.au
***FAMILY NIGHT FRIDAY 3 MARCH***
The 2023 Barraba Show Young Woman of the Year, Amie Middlemiss said, "One of my favourites at this year's Show will be the 'Family Fun Friday Evening" which involves a Mullet competition judging, Pete the Clown, show bags, Mechanical Cow, Abbey's Face painting, Kids games, Piñata, Mini Young Farmer Challenge & Chocolate Wheel. It's just a bit of fun and is a new attraction for Friday evening at the show. "The best part about the Show is bringing city and rural people together". As part of her role, Amie will be opening the Show, judging competitions, running different competitions, presenting awards and ribbons.