Tracing the Legg Family history
6th October 2021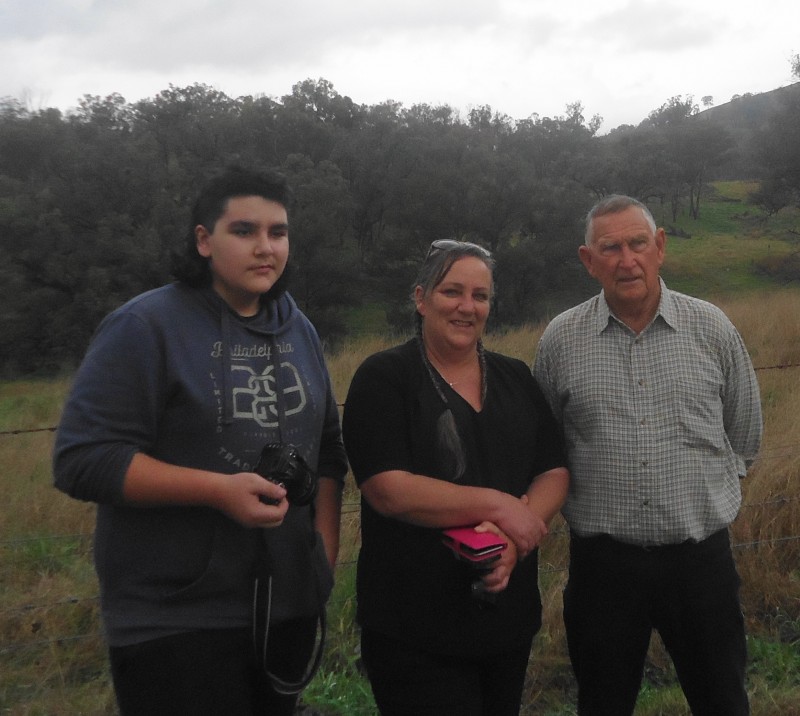 A FAMILY MYSTERY – WHO WAS TRACY KIMBER'S GREAT-GREAT GRANDFATHER?
Bellingen resident, Tracy Kimber, visited Barraba last Thursday on her to quest to identify her great-great grandfather. Months ago Tracy had contacted Julie Williams through the Nandewar Historical Society Facebook page, seeking answers.
There is no doubt who her great-great grandmother was – a very well-known local historical figure, Elizabeth Legg, (nee Rumsby) who, in 1892, killed her husband James Henry (known as Harry) Legg outside their slab hut on the Manilla River west of Barraba, near where the current "Plumthorpe" homestead stands. Reports from that time suggested the couple were engaged in a violent argument about visitors to the home when Harry was away. Elizabeth stood trial in a Tamworth Court for manslaughter and was acquitted; the Court found that that she had unintentionally killed Harry when defending herself against a knife attack. The Court heard that Harry Legg was an extremely cruel, violent man; there were many incidents of assaults recorded, particularly against his wife, his children, and other relatives.
Tracy had a clear picture of her family tree; she is the great granddaughter of Leah Legg, Elizabeth's daughter. But when Tracy's DNA was analysed, her heritage was markedly different from that of those descended from other children of Elizabeth and Harry Legg. She has Aboriginal heritage, as do other descendants of Leah Legg. The conclusion was that her great-great grandfather was not Harry Legg, but an Aboriginal man. But who? Hence her trip to Barraba to search for clues.
On Thursday morning Tracy, son Munro, Tracy's uncle Terry Cross and wife Kay from Inverell, visited Ron Hiscock's "Shed of Knowledge" museum. Other locals also attended and were able to help in the search; Bill Rumsby (Elizabeth Legg was a Rumsby before marriage), Maurice Potter (who was bought up on "Plumthorpe"), Peter Heyward (who knew and worked with Legg descendants), and Margaret Currell and Julie Williams from the Historical Society. The group then moved onto the Commercial Hotel for lunch, where there was much discussion, conjecture, and exchange of information.
After lunch, Maurice Potter led Tracy's group on a visit to the "Plumthorpe" property, where he was able to guide them to the spot where the Legg's hut stood on a grassy flat on the Manilla River, and where Harry Legg was killed in 1892.
At the end of a long day, Tracy felt she knew a lot more information about her ancestors, and their lives in the Barraba district. But as for her great-great grandfather, who was he? Perhaps some of our readers might be able to help Tracy; do you know of aboriginal men who might have been living or working in the "Plumthorpe" area in the 1880s or 1890s? Write to the Editor, or contact us.