Barraba Rugby Sponsorship Night
8th February 2023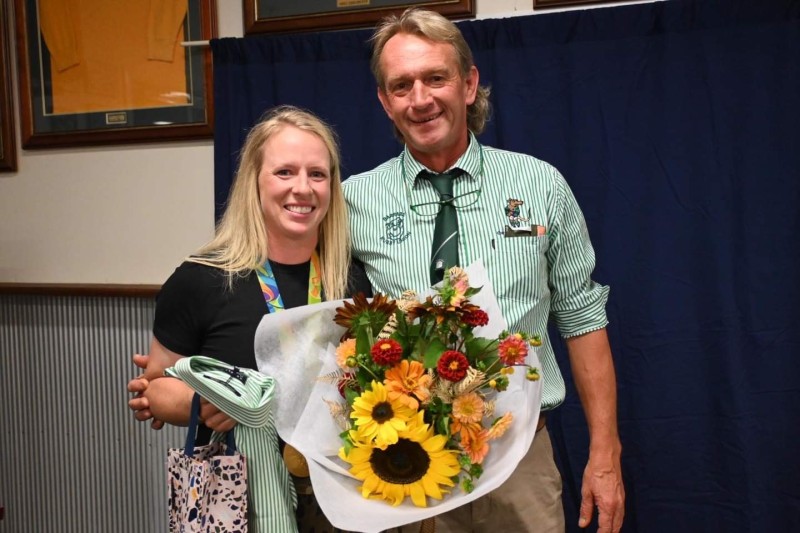 The sponsorship night on Friday night went off with a real bang with a very good crowd in attendance to partake of a seafood and very good range of salad delights or both if you were hungry, well done to those who prepared and served it up.
The feature of the night was the introduction of Gemma Etheridge by club president Simon Koopman, Gemma started off playing non contact sport until she was coaxed into training with the sevens teams alongside twin sister Nikki, who also played for Australia, but missed out on a spot in the Rio Olympics which Australia won by a good margin.
Gemma spoke about the numerous injuries that she had during her career, and the hard task of getting right and back to peak fitness as some of the hardest times, but received plenty of support from officials, physios and team members. Her determination to succeed kept her on track to regain top fitness a couple of weeks before the games and was selected for the team, her gold medal was shown around.
Following the talk, Simon conducted the auction for insignia on back, front, sleeve, leg of shorts, back of shorts and bench jacket, the support of the crowd was amazing and a substantial amount was raised.
The bar advertising was sold to the same sponsor as last year, but the major club sponsor (logo on top left chest) went to a new face which was Barraba Concreting and we thank them for their support, and urge rugby supporters and the district to support a new business to our town and district.
Coaches for the year were named, Men's – Will Robinson, Women's – Ben Freeman.
The club has also decided to run another steer competition this year, and are in the process of getting this started.
Barraba Rams have also got the juniors teams under their wing and will do all it can to help, as the Barraba Junior carnival is one of the biggest in the North West and along with the schools 14's and 16's going well things are looking good.
So if you are wanting to play rugby then you can rock up to training 7pm on Tuesday and Thursdays and join in the fun, Men, Women, Boys and Girls all welcome.
The first game is on the 15th April, Barraba v Quirindi in the men's and women's games. This Saturday 11th February, Waratahs v QLD Reds at Narrabri.
Finally, the club would like to thank all the sponsors for their continued support as these funds are an enormous help in the running of the rugby season and welcome the new ones, we hope you enjoy the season.
Plans for the work on the new constructions are being discussed with the appropriate people and when that is completed, it is hoped works will commence, especially for the women's change rooms.